Kaixo! Gaurko sarrera gazteleraz egingo dut, haurdunaldiko azken egunetan nago eta ez naiz energia askorekin sentitzen, asko sentitzen dut!!!
******************************
Hi there! I can´t translate today´s post, sorry for my english readers... You can translate it using Google translate. In this occasion I will show you my first handmade lingerie set!!!!! The patterns I used were
The Anna Cross Over Bralette
and
Geneva Pants
.
Picture property of Masustak Eguzkitan.
¡Hola! ¿Qué tal estáis? A mi me quedan unos pocos días para salir de cuentas y la verdad es que el cansancio se nota mucho...¡puuuuuffffff! El peso con el centro de gravedad cambiado y los mellizos que no paran, al final del día estoy echa polvo. Pero tengo que coser un poquito aunque sea media horita cada dos días ¡ja, ja, ja! El vicio, es el vicio...para esto la lencería me ha venido super bien. Son proyectos rápidos y fáciles pero claro hay que hacerlos en calma y con cariño, es lo que tiene este tipo de costuras. ¿Os gusta mi conjunto de lencería? A mi me ha encantado coserlo y cuando me lo he puesto, me he dado cuenta de que el sujetador necesita más agarre y que las bragas son super cómodas. Bueno pues voy a empezar a contaros como ha ido mi aventura...
Picture property of Seamwork.
Para las braguitas he utilizado un patrón de
Seamwork
. Son las
Geneva Pants
y se cosen super rápido. En la info pone una horita, pero claro... imprimir, calcar, cortar y coser te llevará más tiempo. Yo he cosido la versión 3, porque quería utilizar el encaje en los laterales para que conjuntará con el sujetador.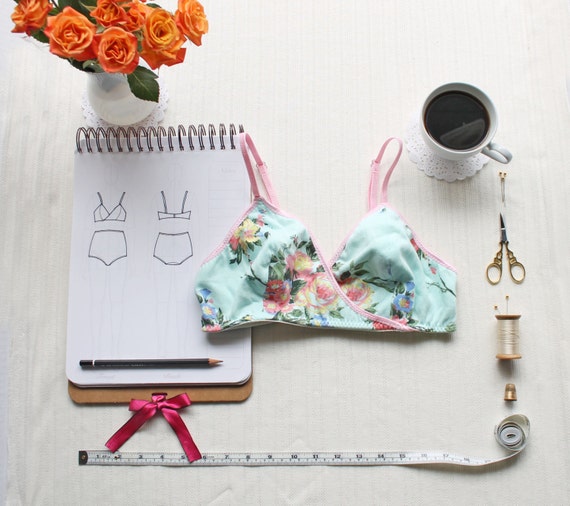 Picture property of Ohhhlulu.
Para el sujetador he utilizado un patrón de
Ohhhlulu
, más concretamente el
Anna Cross Over Bralette
. Es un sujetador de los de tipo blando, pero sin banda inferior. Después de leer este post tan interesante de
Karu
, he llegado a la conclusión que si voy a coser algo de este tipo mejor que tenga una banda inferior y sino mejor coser un sujetador con aros. Pero es un patrón tan bonito, ¿verdad? ¡Ja, ja, ja! Me encantó desde que lo vi, con ese cruzado en el delantero...
Picture property of Masustak Eguzkitan.
Los materiales los he comprado en
Studio Costura Shop
. Es la segunda versión de este sujetador que coso, las que me seguís en IG ya visteis la anterior versión. La verdad es que me quede bastante desilusionada después de coserlo...y no tenías ganas de coser otro, pero cuando
Karu
abrió su tienda online y puso a la venta los
KITS
, no me pude resistir. Es una chica muy maja que te ayuda con las dudas y con sus entradas del blog he aprendido mucho sobre materiales y como coserlos (
aqui
una entrada muy interesantes sobre elásticos de lencería y como coserlos).
Picture property of Masustak Eguzkitan.
Como véis en las dos fotos de arriba mi patrón tenía una forma ondulada en la parte interior de la copa, y yo quería que en esa parte estuviera el borde de la blonda, así que Karu me recomendó esta entrada de
Cloth Habit
donde explica como cambiar el patrón. Al final el cambio se nota un poco porque mi versión no se cruza tanto como la de Ohhhlulu, pero estoy contentísima de la estética del mio.
Picture property of Masustak Eguzkitan.
Para el sujetador he utilizado el encaje en la parte frontal y el Stretch Mesh para la parte posterior (es esa tela tipo rejilla). Además las copas están forradas con el Sheer Tricot que Karu me mandó en el kit. Como véis la lencería tiene su cosa...por eso para empezar os animo a compraros un kit, porque ahí viene todo el material que necesitais y eso facilita mucho, porque andar buscando todas estas cosas, ¡es un lio!
Picture property of Masustak Eguzkitan.
En la foto de arriba aparece lo que os decía, el forro de las copas. Y se ve la goma de debajo del sujetador que da estabilidad (de esto no tenía ni idea...así que el anterior bralette me salió un churro mañanero...).
Picture property of Masustak Eguzkitan.
He cosido todo con una aguja de punta de bola y bueno me lo ha cosido bastante bien, pero seguro que con una aguja Super Stretch hubiera ido mucho mejor.
Picture property of Masustak Eguzkitan.
La goma de los tirantes tiene unos lunarcitos muy monos, se nota que me encanta mi creación ¿verdad? ¡Ja, ja, ja!
Picture property of Masustak Eguzkitan.
Para las bragas he utilizado el mismo elástico con puntilla roja para que queden a juego, y luego el encaje en los laterales. El resto de la pieza esta cosida con la tela de Nylon con spandex negra del kit. Y en este momento es cuando me hubiera venido bien la Aguja Stretch...no ha sido tan fácil coser este Nylon con la aguja de bola de punto...pero bueno me ha quedado más que decente.
Picture property of Masustak Eguzkitan.
Pues nada más, os animo a que cosais lencería ¡¡¡es muy divertido!!! Eso sí para empezar mejor un kit, que lo de los materiales es un rollo patatero... Muchas gracias Karu por toda tu ayuda y tus maravillosos kits, ya tengo otro conjunto de lencería en mente, así que va a caer otro kit y ¡más cositas! Bueno...todo esto si no doy a luz antes porque creo que mi niño tiene ganas de salir y yo de conocerle claro. ¡Un besazo guapas!